Okay, so a story.

Say there's a guy at your work, and you barely know him to say hello to, but you have a fellow feeling for him.

It's like, when you do happen to say hello, the hello becomes a kind of joke, and his eyes know the punchline, and he's looking to you to deliver it, and you're both about to crack up, just because of the word hello? That kind of guy.
Anyway, it's not your work. It's my work.

It's a rare writer can sustain a second person narrative, and I'm not she.
So I asked this guy his name a while ago, because I like to know the names of people who seem to recognize me without ever having met me before. Not like a, "You're famous!" recognition, but more like, "If only we had two weeks on a desert island, and enough food and booze and sunblock, we'd be GREAT FRIENDS IN NO TIME, but life doesn't work like that, but good morning anyway."

I greeted him by name when I got into work early.

"And how are you this morning?"

"I'm beautiful!" he said. Then added, "Well... At least, I feel like I'm beautiful."

I about near melted all over the place, and said, perhaps a little fervently, "You ARE beautiful!" and then said, "You know, I think everyone's just a little more beautiful in May?"

He thought about it, started smiling even more smilingly, then said, "You know, I think you're right?"

"Because," I told him, clapping my hands together, "it's French-Kiss Weather!"

"It's French-Kiss Weather," he repeated, laughing.

Then he went back to reading Vonnegut. And I went back to memorizing lines.

***

So, in my opinion, this term "French-Kiss Weather" should not be wasted on a chance encounter, no matter how delicious. In fact the chance encounter shouldn't be wasted as a mere chance encounter, hence this blog.

But wait. It gets better.

***

There I am, in a certain position at work that has a lot of downtime in between a lot of RUSH AROUND AND TRY TO MAKE EVERYTHING WORK AT THE SAME TIME kind of time. And in my downtime, I write this little poem called "French-Kiss Weather."

And all the while I'm thinking, "Do I give this to him? I mean, is there a non-creepy, non-stalkerish way to give this to him, that will indicate it's just a gift of May, that it means nothing except that he was there for when I thought of it, and anyway, the worst that can happen is a sexual harassment suit, but the second worse that can happen is that we'd lose this unspoken joke between us, which would be a real shame, but the third worse that can happen is not giving it and thinking myself a coward, when I'm not really, and haven't been since I was 23 and decided that the only thing to do with poems I write about people is to, you know, give them to them, because it's only FAIR."

And I came to the conclusion (it was more of a hope, really) that there was that in his eyes which would not freak out too badly.

I think it's called a sense of humor.

I trust people with a sense of humor. They allow for astonishment, but take it in stride.

I still had to think of a way to give it to him.

I couldn't just bring it to his workplace. There were too many of his co-workers there. Ew. NOT MY DEPARTMENT.

Okay, so I took my afternoon break in the staff lounge, checked my email, and LO! In he walks. Right into the staff lounge. Alone.

(Because the gods have a sense of humor too.)

And I called him over and brought my left hand up to shield my face from the rest of the room in case there were spies and lip-readers among those gathered at the far end (and also, because I saw one of my supervisors approaching in periphery), and I leaned in and whispered, "Would you be weirded out or offended if I wrote you a poem?"

And he said, "No! I love poetry!"

And I said, "EXCELLENT!" and dug in my back pocket and handed his to him.

And he said, "RIGHTEOUS!" and went on his way. (People who use the word "righteous" unselfconsciously but also deliberately are A-Okay with me. It's totally boss.)

I take a moment to exhale. I'm a little over-warm, right? WOULDN'T YOU BE?

Because, you know, sometimes it's just a little harder to breathe.

Even when you've done these things before.

***

BUT THEN!

***

My supervisor, who'd been headed in the OPPOSITE DIRECTION, turns around and comes back to me.

"Claire, are you that red because you've been outside all day?"

And poor sweet soul, he's REALLY concerned, I can tell. And it's SO RIDICULOUS that I almost laugh, but I don't because I don't want to get hysterical, so I just tell him, very seriously:

"Nah, boss. I made sure to wear sunblock today, knowing I was going to be working outside."

"Are you sure?"

"Sure, I'm sure. I'm red because I'm blushing. It will fade in a few minutes."

"Oh," he said, looking confused. "Yeah, it's already fading."

And that was that.

***

Life is so interesting.

Men are interesting. And there are more of them ABOUT than usual in my life, which is a pleasant change. I'm a little bit in love with all the world in May. I'm trying to enjoy myself, to control myself, and to not (split infinitive split further) control myself too much. Keep the avenues open, because the avenues are so beautiful right now, full of blossoms and bees.

And it's French-Kiss Weather.

And Stephen Sondheim DID say that a girl has to celebrate what passes by.

***

May 23, 2013 Progress Notes:
On Roadstead Farm
Words today:
1500.
Words total:
70,000.
Reason for stopping:
P. is home with Vietnamese. We're going to make a mango salad to go with it, because I has a recipe.
Darling du Jour:
"I need you, Thom," she said again, and her pockets were empty of river stones. Her hand stilled on the last three; they fell, and ran through her fingertips. The stars glowed, gap-toothed, silent, and my breath held, wishing for magic. Wishing for a miracle.
The minutes stretched. The word-spell bowed under their weight and shattered.
(Alternately: "Marthe had lived on Roadstead Farm long enough to know this wasn't a place prayers were answered." I have two today.)
Mean Things:
Hiding someone with the junk and broken things, and fully realizing that as a metaphor; magic, when it does not work; raw, unfiltered grief; making me cry; excellent grossness; an impromptu stoning, and not the drug-related kind.
Research Roundup:
Mapwork, as figuring out what towns survived the apocalypse and which didn't is a continuing challenge; the colour of unoxygenated blood.
Books in progress:
matociquala
,
Range of Ghosts
.
---
Dreams about snakes last night. I do not like snakes.
Today in YE OLDE TALE OF PEOPLE GETTING INTO EACH OTHER'S BUSINESS (ALSO MONSTERS):
A quick fix-it pass on Chapter 12, and most of Chapter 13 knocked down, as well as a bit of general forward through this little arc. We have officially broken the 70,000-word threshold. I don't imagine I'll keep that, though; there's a lot in this file that's stale-dated, debris of directions this book isn't going anymore. Things are going to come out; a bunch of things came out today, in fact. I have no idea what the actual functional wordcount is right now, or what of the bits forward are going to be kept.
I made myself cry. That...felt good, to do that again.
Further: It's interesting how I forget that this is functionally and structurally epic fantasy, as well as Sinclair Lewis/Margaret Laurence Canadian literary fiction. The amount of details, maps, characters, distances to keep in my head just balloons more every day. The notes file has doubled in the last week or so. It gives me ideas for a front-piece map, which would in and of itself be a wonderfully genre-subversive thing to do, given that this is a story where, largely, the protagonist does not leave home.
Dinner. I'll finish this chapter and take on the next tomorrow.
Current Mood:

melancholy

Current Music:

LOOM -- Animal
we're discussing Johnny Depp's portrayal of Willy Wonka.
Come chat.
2. And that is finally the end of the Roald Dahl journey. Now, I think it's time to focus on people who are smaller. A lot smaller. With perhaps an introductory book first...
3. This morning I headed out to what will be one of my last trips to the Here Be Dragons Bookshoppe, which alas is having to close down because of the owner's health issues. It's incredibly frustrating: a bookstore selling used and independent books (and the occasional dragon) that's turning a profit...and this. The owner is offering the business for sale, and says she has a couple of interested prospects, so I'll keep my fingers crossed.
1. Over at Tor.com,
Originally published at Con or Bust by Kate Nepveu. Please comment there (
comment(s)).
Nominations for the Con or Bust Face-Off, to be held tomorrow at WisCon's Gathering and Carl Brandon Society party, are still being taken through 11:59 p.m. Eastern tonight! Name your favorite character of color from an SFF work in the form below. The characters with the most nominations will face off against each other in a bracket challenge that takes the classic geek pastime of arguing over which fictional character would win in a fight and melds it with fantasy sports. The Face-Off also introduces people who may not have encountered your favorites to new characters of color to explore.
(LJ users, click through to the original post or go straight to the Google Docs form.)
You can also browse the current nominations, but remember that the field will be narrowed based on total number of nominations—so if you haven't nominated yet, be sure to even if your favorite characters are already on the list!
If you need someone to talk to you intelligently about your options, let me recommend most highly Maggie Hogarth (
haikujaguar
on LJ), who offers her services
here
. A $20 email consultation is an excellent investment if you are thinking of pouring your resources into a venture.
I am very grateful--and expect to continue to be grateful--for very excellent free advice I've received from all sorts of people, from my nearest family members to friends I've only interacted with online. And I hope all of you have similar people in your life whom you can turn to. But there's always a risk of wearing out your welcome if you bother people **too** much. That's where a professional consultation comes in handy. (And, I should add,
haikujaguar
is a very generous soul who shares tips, ideas, and insights freely--and for free--on her LJ, too.)
While I'm at it, let me also recommend her book on running a Kickstarter. I'm not thinking of running one anytime soon, but her walk-through of the process and the things you need to take into account is fascinating.
From Spark to Finish: Running Your Kickstarter Campaign
, available from Smashwords
here
and from Amazon
here.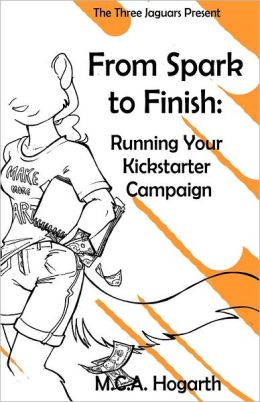 Many of my creative friends here on LJ have considered entrepreneurial ventures involving their art, and of those creative friends, many of the writers have considered self-publishing, either as an adjunct to their traditional-publishing career or as an alternative.
Current Music:

Thao & The Get Down Stay Down: Holy Roller
greygirlbeast brought up slang today and my comment ran long, so I figured I'd put it here:

An odd thing. I was complaining to Spooky about baffling online slang, and that led to a general discussion of slang as a phenomenon associated more with subcultures than with linguistic evolution, and to a discussion of slang that attended various times and scenes and geographical regions (the Jazz Age, hippies in the sixties, Cockney rhyming slang, surfer slang, etc.), and that led to a rather peculiar realization: As a child and teenager, I used very little – virtually none – of the slang that would be associated with the seventies and early eighties. Almost none. I began trying to list words. I came up with "cool" and "man" (before the ubiquitous "dude") and one two more. I used a tiny bit of older slang I got from my mother – "neat," for example. Hell, "cool" and "man" weren't truly of my generation. It's all became very confusing. Sure, I used Southern Appalachian/Alabama euphemisms, but there was very little that followed from pop culture. I'm still racking my brain over this. I didn't even truly discover profanity – another facet of slang – until I was in my mid teens (which might seem odd, what with me now being such a connoisseur of dirty words and all).

But, this was long before the internet. I posit that the internet has forever changed the evolution, propagation, and longevity of slang. It's an interesting problem.

And here's the comment: Linguists tend to think that we use the words that are most effective in communicating to the people we care about most. So teenagers--detaching from their parents and bonding with each other/finding themselves, even if only temporarily--will always try to conjure new codes. But I think that being enough of an outsider from teenage culture would make one less engaged in that phenomenon. For me, goth culture and drug culture (or counterculture) led to my embracing a lot of slang and I bet I tried to "seem cool" in high school, but I'm well-aware that I failed mightily. I guess we used to sit around and all do Billy Burroughs impressions in college too, now that I think about it. That almost counts.

But there has been a flattening of slang due to the rise of the Internet (which I have been capitalizing again lately, like Big Brother). Now, the latest prefab pop confection can have her personal assistant tweet something that makes no sense and teenagers around the world will use it for a week or two to see if it's "cool" or whatever. But the net result seems to be so much less meaningful communication that my prediction would be that American vocabularies are shrinking...

Yet again, I think of Peter Lamborn Wilson telling me, early on, that the "Internet is infinitely wide but only a micron deep"...

I didn't believe him at all. My loss.


Like I said, I knew this wouldn't be time *off* - cons are work for me! But it's a different kind of work and a different kind of busy from what's been plowing me under back home. And the shift has worked. (The shift and everything else. :) )

I haven't much time before departing for Madison, but given what a stressmonkey I've ben lately, I wanted y'all to know: I have had the reset I needed, and everything is good. :)
This trip has been very restorative in all kinds of ways.
Say hi!
I know a lot of people! This means I will often be with people. Please do not let this dissuade you from coming up and saying hi - my friends are friendly people too! I may take a sec to recognize you, or I may recognize you instantly. It will be a surprise to all of us, what happens. Seriously, though, I do love meeting people, and I'll be sad if I don't get to meet you, so come say hi. I'll be the short one.
No, really, I'll be the short one.
4'11". Further data: Curly calico hair that currently wanders down to midback, burgundy cats-eye-ish glasses. Curvy.
Gender
I identify as genderqueer, but I use female pronouns. Some people can totally tell when I'm feeling more on the male side of the gender spectrum, and some can't; I don't expect you to. Keeping in mind that I'm not cisgender is good enough for me.
Please don't.
* Wiscon is less crowded than other cons, so my startle reflex is less primed, but still: grabbing or hugging me from behind or playing Guess Who will not work out in a way that you enjoy. I would love to hug you! Make sure I know you're there first.
* Having my hair played with is a very intimate thing. If you're not sure if we're that intimate, we're probably not. If you think we might be, ask. :)
* No photographs, please! If you do catch a bit of me in a photo you must post to Facebook, don't tag me.
Logistics
I'm arriving Thursday afternoon, leaving Monday. If you don't have my cell phone number and feel that you require it, e-mail me.
My body wants to kill me.
* Seizure response info can be found
here
.
* I am not currently on anti-seizure medication, because pretty much the last possible AED started to give me unlivable side effects. I am managing my epilepsy in my own way, and I've been able to keep my seizures as well controlled as they were with the drugs. I am not seeking advice; I'm doing fine, thank you!
* I have celiac disease. This makes the "feeding' part of "care and feeding" difficult. I believe Wiscon's restaurant guide has a list of GF-friendly restaurants. I would
love
to go to lunch or dinner with you. Please understand that when I need to know what restaurant first, it's not that I'm being a diva, it's just that I don't want to be sick for a week. If I say no, it's not that I don't love you, it's that I'm not sure about my ability to eat safely where you're going. You don't have to amend your dinner plans for me, it's cool, we can hang out later! Indian food tends to be safe, and there's an Italian place nearby that has GF pasta.
Where I'll Be
Dishing out cookies at the Gathering, on my panels, at my reading! I will be attending the Queers Dig Time Lords/Outer Alliance party for sure - most parties, really! - and Genderfloomp. I'll probably be bouncing merrily along the sixth floor all night. Like Edward Bloom, I am a social person.
My ScheduleFriday
Coffee, Tea, and Subversion (1pm-4pm; the Gathering): Enjoy coffee, tea, ice water, and/or cookies! Members of the Interstitial Arts Foundation serve up refreshments and a bit of chat about the interstitial arts and the work of the Foundation.
Women's Speculative Poetry Now (9pm): Ursula K. Le Guin publishes Finding My Elegy: New and Selected Poems; Tracy K. Smith's science fiction-y collection Life on Mars wins a Pulitzer; Aqueduct issues The Moment of Change, an anthology of feminist speculative verse. If you were standing at the intersection of poetry and speculative fiction, 2012 was an interesting year. In this roundtable, poets, critics, and editors take turns briefly addressing several interlocking questions: What are the most interesting developments in 21st century speculative poetry by women? Where's the action—what magazines, presses, and virtual / physical communities are fostering those trends? What are the audiences—how are these poets reaching readers and listeners? We'll devote much of the allotted time to an exploratory conversation involving the roundtable audience.
Saturday
Open Secrets: A Speculative Poetry Reading (2:30pm): Members of the Secret Poetry Cabal (a speculative poetry group) will read their work.
Spindles and Spitfire (4pm): Join us for a reading packed full of sinister whimsy, hidden hearts, folkloric sensibilities and SNACKS! Lisa Bradley dances with the skeletons in her closet. Shira Lipkin will apparently write anything if you dare her to on Twitter. Alex Dally MacFarlane works at a spindle of bones and gold. Patty Templeton writes hellpunk in a handbasket, full of ghosts, freaks and fools.
Sunday
Exclusion and Inclusion, or Kicking People Out: A How-To Guide (10am): Often efforts to make spaces welcoming are confounded by an unwillingness to expel people who are already there. We'll discuss the issues involved in creating communities that are less alienating. How do we in fandom balance a desire not to explicitly exclude with the need to prevent implicit exclusion? How do we handle the backlash from active exclusion? What role do allies play in establishing and enforcing policies? How are opportunities for education balanced against the exhaustive requirement of providing that education? How do issues of age and ageism complicate these questions? And how do we actually say "you aren't welcome back"?
A Very Special Disability Panel (1pm): You've seen these panelists present on disability, impairment, abl(e)ism, normate bigotry, and similar weighty subjects. That won't happen here. Using a gameshow format, they'll explore vital topics including the silliest, the least effective, the most deadly, the sexiest, and the hardest to clean. The only reference to the social (justice) model of disability will be right here, in this sentence.
As usual, if you can only come to one thing,
come to my reading
! And the Very Special Disability panel - I'm really looking forward to that one!
I hope to see you there! <3
Totally copied and pasted from last year, with minor updatery.


In this age of wonder, I have wifi on the plane.

No video streaming but I can play on the Internet and not feel guilty since I can't do much else on a plane.

I am grateful that the driver got us to the airport on time.
We are flying to Phoenix for the Phoenix Comic Con.
Of sighs and yo-yos, mean girl looks, bad jokes and bruises, stolen cues
It is to be all fast-paced, racy
-
but remember, family friendly! - and yet again think
sexy
.
It is to be all crumpled rhymes, half-memorized lines, that ever bloody napkin (more bad jokes)
Moony eyes, repeated swoons, false swains, false vows, false strains
And all the pangs of puppy love rekindled for display.
It is to be all play, all ditzy spinning, puerile whining, running, hiding
Reeling in and casting out, all sweat and gore and lion's roar
All hyperbolic gesture and the just-missed-kiss.
It is to be all traitor dimples, simple shepherds, tyrant sweethearts
Trash talk, making mock, inventing some new way to walk
And don't forget - endowing tender meaning, subtle shading, sympathy, on each and every lover's litany...
The rest is what we're given, should we take it, if we like it.
And so are we for Rosalind
And so are we for Ganymede
For Celia, for Sylvius
For Oliver, Orlando
For Audrey and for Touchstone
And for Phoebe-Phoebe-Phoebe!
And so am I for all of them.
And so are they for me.
***
Flock Theatre's
As You Like It
will run...
14 June: Opening Night (Connecticut College Arboretum)
15-16 June: Arbo
20-23 June: Arbo
27-28 June: Arbo
29 June: Hampton, CT
All shows are at 7:00 PM.
All the "Becoming Rosalind" poem-blogging ("plogging?") may be found under the
"Worshipping Shakespeare"
tag.
***
It is to be all made of groans and moans and grass-stained jeans